Product Name:Ceramic Cyclone Liner
Cyclone Liner

Apart from the standard alumina ceramic tile,we can also manufacturer the pre-engineering ceramics to suit different equipment.
---
Product Introduction:

Seperator cyclone equipment is mainly abrasive damaged by handling material, Chemshun can design ceramic cyclone liners according to customer's cyclone size and wear resistance requirement. ceramic tile liner cutted and then composed .
Product Application:

Apart from the standard alumina ceramic tile, we can also manufacturer the pre-engineering ceramics to suit different equipment.
We have our technical team who can help the client to choose the suitable wear resistant ceramic products , and also we have the ability to design and make the CAD drawings according to the client's wear application.
The Tailor-made ceramics had the advantage of low wear,high hardness and impact resistantace,it widely used for the chutes, hoppers, bukers, piplines in the mining, power generation, steel plant, steel plant industries, it make cost effective performance and reduce the maintance cost and down-time for the clients.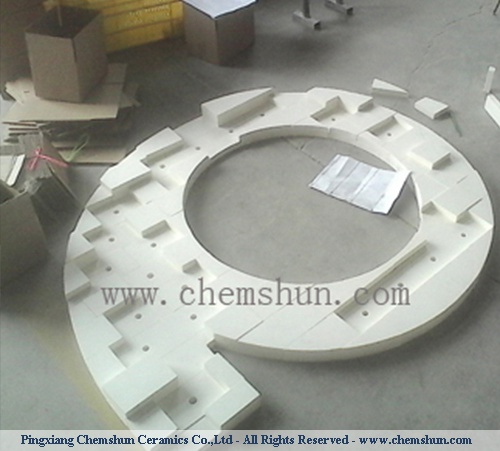 Service:

Any requirment about chemshun Alumina Ceramic Square Mosaic Tile ,Alumina ceramic cyclone liner , Wear Ceramic Liner Vulcanized Into Rubber and wear resistant ceramic product Backing, alumina ceramic rubber wear plate and Wear Resistant Rubber Ceramic Panels, please feel free contact us and chemshun we'll afford you the most suitable product and best service. web:www.chemshun.com . Tel:86-799-6790781
Export:

Our products have been exported to many countries: Australia, Chile, USA, Russia, UK, Indonesia, etc., good quality have be approved by our clients.
Product Technical Data (1:wear resistant ceramic)
Chemshun Ceramics also recommends these other engineering ceramics:
---
Engineered ceramcis lined pipe
*

Indicated required field
Inquire:Ceramic Cyclone Liner
Company name:

Please fill in your company name

*

E-mail:
Source:
where did you get our website ?

*

Inquire intention description:
Please fill in the quantity and description of

Inquire

products for uniform stocking.
Related News