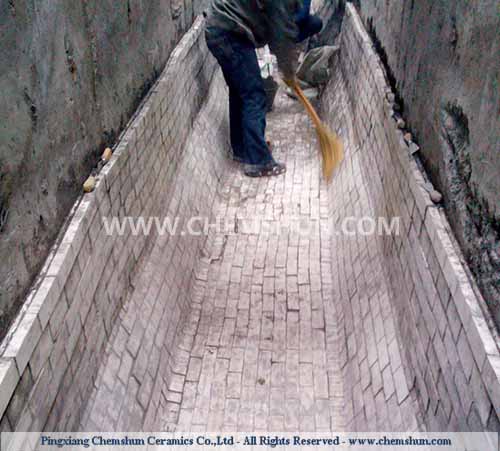 Product Name:Ceramic Chute Liner
wear ceramic liner pasted in the surface of chute will reduce the abrasion damage to chute
---
Chute is main conveying equipment during coal powder,grain,iron ore handling system ,but chute will bear big abrasion as handling material flow for long time, Ceramic chute liner pasted in the surface of chute will reduce the abrasion damage to chute. which is widely applied in mining industry , coal plant,cement plant, steel industry

Chemshun has technical team and installation team who can help the client to choose the suitable wear resistant ceramic products ,and also we have the ability to design and make the CAD drawings according to the client's wear application.
Chemshun Ceramic Chute Liner suggestion according to your wear area: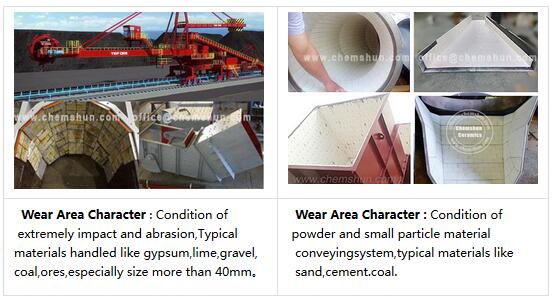 3: Chemshun steel plant chute wear tile installation case :


Product Technical Data (1:wear resistant ceramic)
Chemshun Ceramics also recommends these other Ceramics lined equipment:
---
*

Indicated required field
Inquire:Ceramic Chute Liner
Company name:

Please fill in your company name

*

E-mail:
Source:
where did you get our website ?

*

Inquire intention description:
Please fill in the quantity and description of

Inquire

products for uniform stocking.
Related News
Contact Chemshun
TEL:+86-799-6790781
FAX:+86-799-6790785
Mail:office@chemshun.com
ADD:Non-metal area of shangliuyuan, Economic development zone, pingxiang city, Jiangxi province, P.R.China